Once were knight...
Viewing Pic 4500 of 4507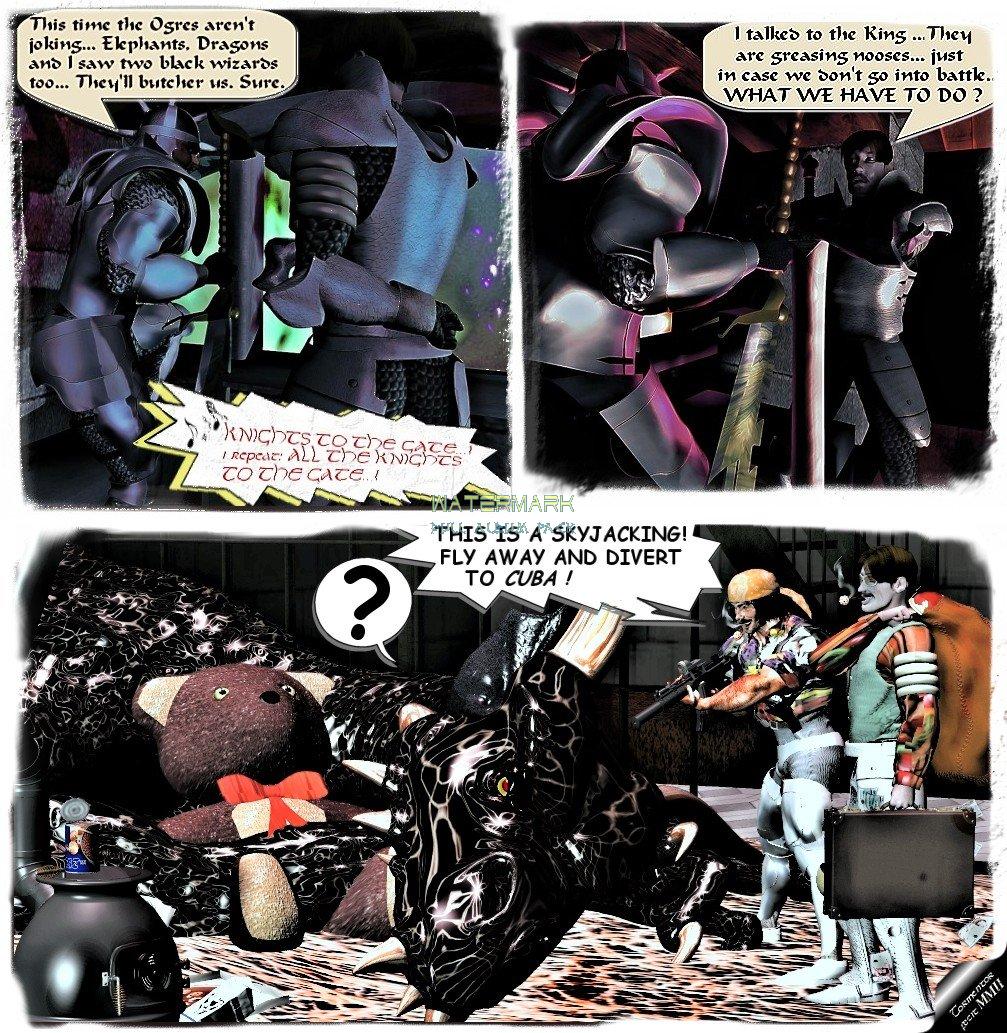 Poster:

Tormie

Image:

Once were knight...

Image Details:

ID: 42 - Image Type: JPG - Size: 1007 x 1033 (348KB)

BBCode:

Posted:

07 Apr 2003 21:28

Views:

249

Pic Description:

Dedicated to the late lamented Bonvi, "Sturmtruppen".

Poser 4, Paint Shop Pro 7, Painter Classic.

Knight Armour by Staale, Paladin's one by Jon, £5 by DrumBoy, free Dragon by DAZ and Thanks to all makers of the free stuff I used here.

Thank You for viewing and hope you enjoy it.
Poster
Message
JanReinar


Posette enthusiast



Joined: December 2003
Posts: 2385
Location: Rio de Janeiro

06 Apr 2004 14:50

lmao: lmao: lmao: lmao: =D> =D>


_______________

Here we go!

Tormie


Posette enthusiast



Joined: March 2003
Posts: 8278


06 Apr 2004 19:43

Thank you Jan!! I've to awake"my" knight !!!


_______________

JanReinar


Posette enthusiast



Joined: December 2003
Posts: 2385
Location: Rio de Janeiro

28 Jul 2004 00:10

lmao: lmao: lmao: lmao: I like this one very much! I must back here when it aappears on front page! lmao: lmao: lmao: =D> =D> =D> =D>


_______________

Here we go!

tda42


...Pink Paws...



Joined: November 2003
Posts: 2551
Location: Tennessee, The Great Polecat State

27 Jan 2008 14:37

I don't believe that I missed this one. A different side of Tormie. Great work.




_______________
Two wrongs don't make a right.
But six left turns will get you around the block
and back in the driveway again.

GrouchoCaesar


Forums Veteran



Joined: November 2006
Posts: 351
Location: New Zealand

29 Feb 2008 05:12

Lemme guess... the in-flight movie is "DragonHeart"?





_______________
Am I the only one who thinks they named it Windows because it is a major pane? BA-DUM BOOM!!

Chromium


Old Timer



Joined: November 2010
Posts: 577
Location: UK

18 Jul 2011 21:33

Great work Tormie, you have a good story telling style.


_______________

I've found that to do well with any figure you really need to have a passion for that figure,

...and I hope you develop that passion for yours.

rico


Frequent User



Joined: April 2019
Posts: 126


17 Mar 2021 18:32

T'is so cool Sire




_______________

Photo Album Powered by:
Mighty Gorgon
Full Album Pack 1.5.0 © 2007 [based on
Smartor
Photo Album plus IdleVoid's Album CH & CLowN SP1]