Darkness Arises, Assassin swim-dress...
Viewing Pic 45 of 4519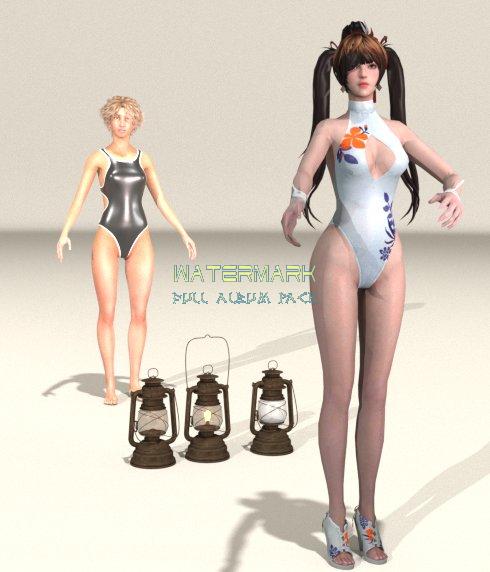 Poster:

Nik

Image:

Darkness Arises, Assassin swim-dress...

Image Details:

ID: 8533 - Image Type: JPG - Size: 490 x 572 (36KB)

BBCode:

Posted:

29 Jul 2022 15:32

Views:

13

Pic Description:

This is the cute but deadly assassin from Darkness Arises, tastefully ported to XNA/Lara format by Bringess
https://www.deviantart.com/bringess/art/Darkness-Rises-Assassin-Swimdress-924090002

With freebie kindly supplied as XPS, MESH *and* MESH.ASCII, the latter was convenient for porting to FBX via free Noesis en-route to Poser.

This FBX loads well to Poser at ~10k% of original. (9.5k~~12.5k% depending on how tall lethal missy is ''in game''...)

There were about a dozen sub-rigs, a manageable set to wrangle. I used Poser hierarchy to identify, hide then delete sundry options.

Figure may be posed with care via *first* sub-rig in list, aka 25_-Assassin-Head-Shinobi_Assassin-Head-Shinobi_0_3_0_0

Those needed for this scene are...
25_-Assassin-Head-Shinobi_Assassin-Head-Shinobi_0_3_0_0
25_Assassin-Body-Swimdress_0_3_0_0
25_-Assassin-Head-Basic-06_Assassin-Head-Basic-06_0_3_0_0
25_-Assassin-Head-Harness_Assassin-Head-Harness_0_3_0_0
24_Assassin-Face_0_3_0_0

Scene needed *lots* of light to bring up the nice textures'' colours.

Render is Superfly, Progressive, 64 pixel-samples, 1024 vols & buckets using both my twin GPU cards.

Lanterns are neat PMX freebie by ''Keeper of Time'' on BowlRoll, variously ported from free PMX Editor via OBJ+MTL at ~5% original. I was trying to adapt their handle / wick / flame etc materials and morphs to Poser, took a ''time out''. When I figure the work-flow, they''ll get their own post...
https://bowlroll.net/file/260875
Poster
Message
Nex


Frequent User



Joined: June 2004
Posts: 207
Location: Ohio

27 Aug 2022 06:04

Nice work.




_______________
"the brite good morning voice, whose heard but never seen"
Photo Album Powered by:
Mighty Gorgon
Full Album Pack 1.5.0 © 2007 [based on
Smartor
Photo Album plus IdleVoid's Album CH & CLowN SP1]